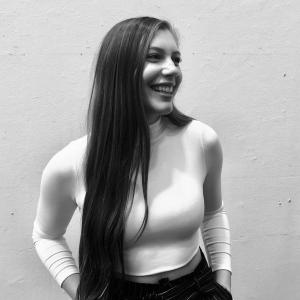 Sarah Klawiter
Artist member since 2019
Pro
Toronto, Ontario
Sarah Klawiter is an abstract artist based in Toronto, ON who works primarily by painting and drawing. She has graduated from OCAD University with a BFA from the Drawing and Painting program. Her paintings are inspired by her everyday life in Toronto, turning what she sees into her own abstracted world—all of the negative and positive spaces— and the new unexpected shapes within them.
By using recycled materials, acrylic paints and a various of mediums, 'windows' are created which become the new worlds for the viewers to immerse themselves into. Within these windows, shapes and lineation's tell a story, an abstract narrative. By pushing and pulling through the layers of paint on the surface, orchestrating different sizes and using repetitions, Sarah plays with the figures and the unfamiliar boundaries of the painting.
These pieces are fun and interactive as the surfaces hold so much life and texture, which help tell the story of a new world.
---
Coffees per day and from where
I will have any number of caffienated beverages per day- but only cold ones. A caramel macchiato from Starbucks is my favourite. They power me through a long working shift or a long session in the studio!
When I'm not making art, I'm (a) ...
READING! I'm a big reader! I am always in competition with myself to read more than I did the year before. I will read anything and everything. I love a good non-fiction, biographies, or any book on colour. I could spend hours in a bookstore.
What do you listen to when you work?
I have Apple Music, and I love making playlists to listen to while I work. Depending on my mood, I will choose more upbeat or slower collection of songs. Sometimes if I really like an album, I will just replay it over and over.
Why is it important for people to have art in their home or life?
Art is so diverse that there are as many ways to understand it as there are people. Art is at a position to move people- inspiring us, inviting new questions, provoking curiosity, happiness, outrage! It has the power to break barriers, educate, tell stories and access higher levels of thinking. I think that there is art out there for everyone, and if you don't believe me, you haven't found yours yet!
Select Past Exhibitions
2018
2019
2019
2019
2019
2020
2020
2020
2020
What do you mean, "try"?
Try-before-you-buy with a 3 month rental. 100% of your rental payments go towards the purchase (interest free). Message the artist directly, and start the conversation.
---
Art made (truly) affordable
We make it easy for you to try art with smart payment plans and try-before-you-buy models.
See How It Works
---
You're covered.
Artwork protection is included on all art rentals up to $10K. Our Customer Care team is always here to help.
Contact Us
---
Unlock Trade Access
For industries including interior design, film/TV production, & real estate staging: rent original pieces that fit with your project vision, budget and timeline.
Apply for Trade Access
---
1% from every transaction goes towards a Canadian arts nonprofit.